BEER DRINKERS AND HELL RAISERS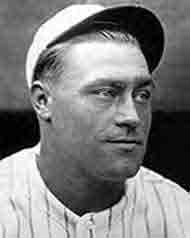 HACK WILSON

He was all muscle: a barrel-chested powerhouse with blacksmith arms, and bulging thighs and calves on short legs that tapered to tiny feet. He had an 18" collar and size #6 shoe. Hack Wilson was a physical oddity in baseball and a physical phenomenon. Sporting 195 pounds on a 5'6" frame he was the prototype for a slugger in the new age of the lively ball.....a man who swung first and asked questions later!
A man who was the perfect fit for the roaring twenties when excess were never considered to be too excessive, he was a man of extremes. There are two reasons for his nickname......one is that it was from George Hackenschmidt, an old-time wrestler, or from a resemblance to Lawrence H. "Hack" Miller, a player who preceded him in on the Cubs. Either way, the name was a perfect fit.
The Cubs got Wilson from the Giants because of a clerical error. Sent by the Giants to their farm team at Toledo (AA) he was acquired in a postseason draft by the Cubs for $5,000. Giant protests to Commissioner Landis were denied and from that point on Wilson's career went on a rollercoaster ride. Batting cleanup in the Cubs' awesome lineup of hitters, he became one of the NL's most feared hitters.
At the plate the squat, stumpy, and menacing looking Wilson was an intimidating looking figure. He loved the high fastball and brought the bat around from the right side to meet it with little grace and mighty effort. And until the liquor overmastered him, he could hit a ton. His record of 190 runs batted in (actually rbi #191 was recently credited to him) stood for 70 years.
His problem was alcohol and the lack of discipline it encouraged. Joe McCarthy knew how to handle him and keep him functioning. He once took a worm and dropped it in a glass of whiskey. "Now what does that prove Lewis." asked Marse Joe. Wilson thought about it for a while and replied, "It proves that if you drink whiskey, you won't get worms!"
Hack was a perfect fit for Chicago, with it's speak easys and brothels. Hack hung with many celebrities, and even had his picture taken with Al Capone. Following his tremendous 1930, Hack dropped to .261 with 13 home runs and 61 RBI. After one more good season with Brooklyn, it was down hill for him, and he was out of the league by 1934.
After his retirement he drifted from job to job, eventually becoming the manager of a municipal swimming pool in Baltimore. Near the end of his life though, it became apparent that he had found the error of his ways. He appeared on a network radio show where he spoke about the effects of "Demon Rum." This was just a few months before his death from an internal hemorrhage on November 23, 1948. He was only 48. He was elected to the Baseball Hall Of Fame by the Committee On Baseball Veterans in 1979.