BEER DRINKERS AND HELL RAISERS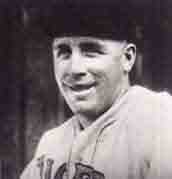 BOB FOTHERGILL

Bob Fothergill was an outstanding line-drive hitter more famous for his girth and free spirit attitude than his hits. Charitably listed at 230 lbs., the 5'10" outfielder was sensitive about his size and preferred Bob or Roy (his middle name) to Fats. Leo Durocher once complained that it was illegal to have two men in the batter's box; during a crash fasting program, Fothergill supposedly bit an umpire after a called third strike; there were several accounts of his shattering outfield fences in pursuit of fly balls!
He enjoyed the night life and always had a pitcher of beer handy to help wash down his favorite meal, a Porter House steak. He once got into a beer drinking contest with Babe Ruth and teammate Harry Heilmann and won handily! He got into a wrestling match with Earl Whitehill, and was reprimanded by his manager Ty Cobb for using his weight as an unfair advantage! He could hit though. In 1927, his top year, he batted .359 with 114 RBI for the Tigers. Eventually he was relegated to pinch hitting, where he led the AL with 19 in 1929. Of those with more than 200 pinch-hit at-bats, only Fothergill has posted a .300 career average.
The drinking and bad eating habits finally caught up to him after his retirement and he died from a stroke on March 20th, 1938 in Detroit, at the age of 40.