BEER DRINKERS AND HELL RAISERS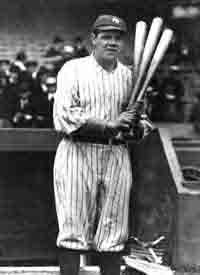 BABE RUTH

The greatest player in baseball history and the number one sports personality of all-time probably was the biggest all-around hellraiser the world has ever seen. There is really nothing I can add that has not already been written about him. The Babe had gargantuan appetites, for food, liquor, women, and just about everything else. He was everything that has been written about him and maybe more.
It was once noted that he went through an entire St.Louis brothel in one night, twice!! Ty Cobb once saw him eat several sandwiches and an entire jar of pigs knuckles washed down by a pitcher of beer. Like I said, can anything more be said about this man that hasn't already been said.
Everyone loved him! He was friends with such diverse personalities as Dizzy Dean, Lou Gehrig, Harry Heilmann, Leo Durocher and Ty Cobb.
As for Ruth's legendary carousing, my favorite line is from his roommate Ping Bodie when he quipped, "I don't room with him. I room with his suitcase." Ruth's last public appearance came at the premier of the movie about his life, "The Babe Ruth Story," starring former Yankees batboy and friend, William Bendix. Three weeks later, at the age of 53, he was dead of throat cancer.
At the funeral, on a sweltering hot August Day, pallbearers and former Yankee teammates Joe Dugan and Waite Hoyt stood in front of the casket. Noting the brutal summer heat, Dugan whispered, "I'd give a hundred dollars for a beer." Waite Hoyt replied "So would the Babe."