Bad To The Bone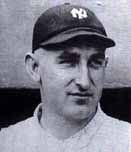 Carl Mays
Almost everyone knows the story of Carl Mays. He was a quality pitcher and a big winner who also had to live with the very sad fact that he caused major league baseball's only fatality. On August 16, 1920, Cleveland's Ray Chapman was hit in the head by a Mays fastball as he crowded the plate.

Truth be known, that even if Mays had not been involved with that incident, he would still rank as one of the nastiest S.O.B.'s in baseball history. Though he never had a high ranking when it came to hitting batters, mostly due to his pinpoint control, he still had a reputation as a headhunter, someone not to dig in against. He used intimidation to help his game.

Ty Cobb had a running feud with Mays and wanted him banned from the league over the tragedy. It should be known that Cobb liked Chapman, a fellow southerner and all around good guy. Mays brushed the incident off, eventually going on to have his best seasons as a pitcher. He was full of self-confidence, very rarely breaking under pressure.

Later on there was suspicion that Mays may have thrown World Series games against the Giants in 1921 and 1922. Mays never let the incident effect his personal life either. He lived until 1971 and the ripe old age of 79.